"8,9… 10! Great job Suresh! You did it!" exclaimed Sunitha Subramaniam, Lead Coach of SAAAC's Fitness Program, while giving her student a big high-five. Suresh beat his personal best of eight squats – a fantastic milestone! Suresh was mobbed by other volunteer coaches and showered with fist bumps and praise. It was a feat worth celebrating for Suresh, his coaches and his parents. For Suresh's parents, they could not have imagined a scene like this when they first joined the program early this year.
Suresh, along with 30 other young adults, was chosen to be part of a pilot fitness program at SAAAC. This program was made possible through combined funding from the Ontario Trillium Foundation, Doug Flutie Jr Foundation for Autism, and Holman Enterprises.
The Need for Fitness Programming
Studies have shown that obesity is higher among adolescents with autism compared to adolescents without these conditions (Maternal Child Health, 2014). In addition, a Canadian multi-year research study about school-aged children and youth with severe and complex developmental disabilities found that over 70% of children were not playing team sports and over 60% were not able to be involved in community activities (GO4KIDDS Report, 2014). Inactivity is a problem for young people like Suresh who have only recently immigrated to Canada with their family. Physical exercise and fitness are not promoted within newcomer communities in Toronto because newcomers are less likely to be active than the broader population (Toronto Vital Signs Report, 2014).
Suresh did take part in a sports program in the past, but the core features of autism – social, communication and behavior challenges – made learning and engaging in organized sports a struggle. "Individuals with autism often have great difficulty participating in sports as they typically lack the fundamental movement skills," says Sunitha. "In addition, team sports can also become quite overwhelming with the amount of rules and people someone with autism has to deal with."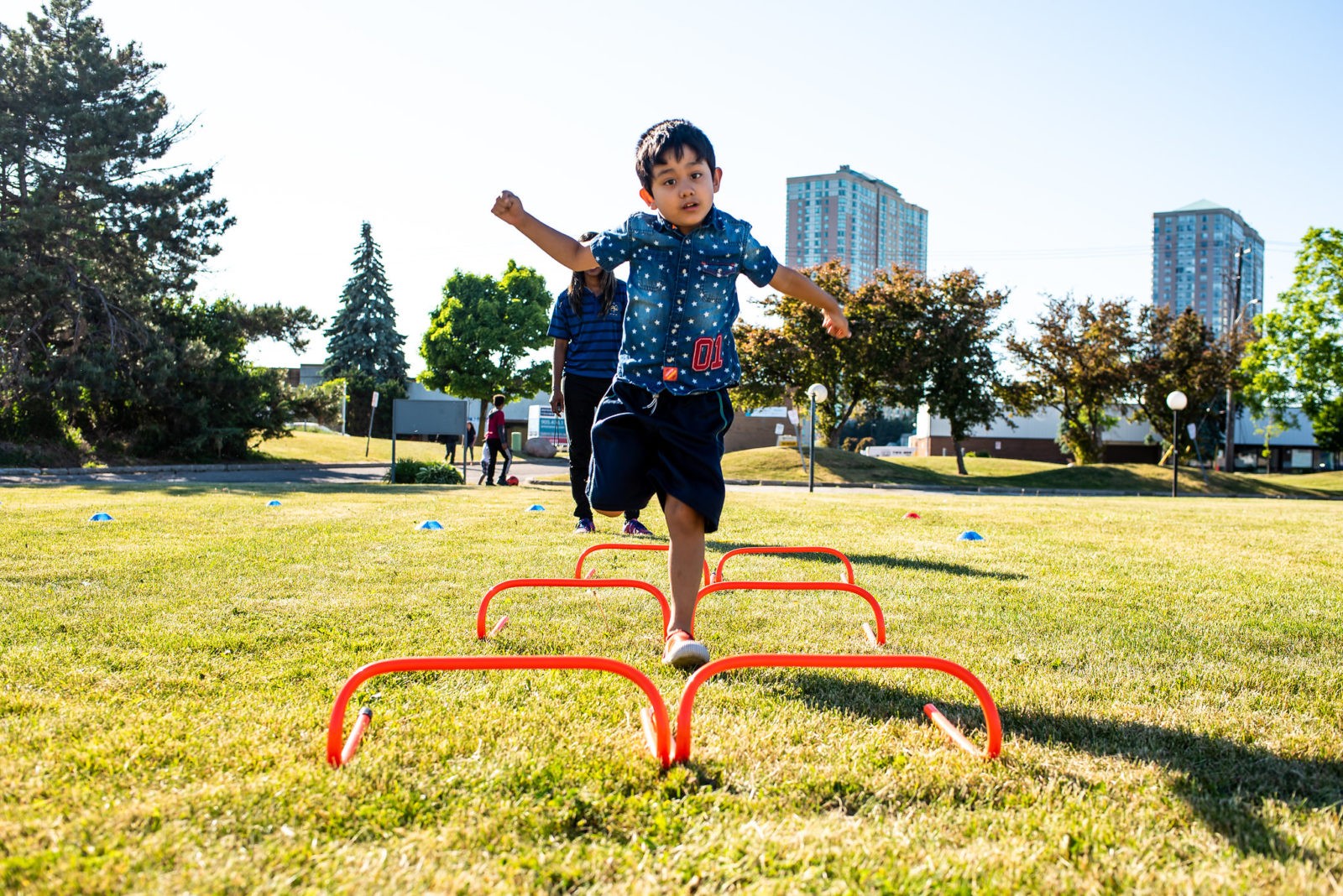 SAAAC's Learn 2 Play Fitness Program is based on the Manhattan-based physical education program, Autism Fitness created by Eric Chessen – a program which looks to develop an enjoyment of movement and a lifetime of healthy activity.
SAAAC's Fitness Program helps to improve fundamental movements (pushing, pulling, rotation, squatting/bending and locomotion) by building strength, stability and coordination with the goals of performing more complex movements over time (Autism Fitness, 2013).
SAAAC's Fitness Program is implemented by Sunitha Subramaniam, Lead Coach, who has an Honours Bachelor of Kinesiology and a Bachelor of Education with specialization in Health and Physical Education ( she also has nearly a decade of experience working with children and youth with autism). She is supported by a team of volunteer coaches trained in how to support individuals with autism in a recreational setting. Volunteers help model the exercise, encourage students and positively reinforce them throughout the session with social praise and access to activities they enjoy.
"When you teach students these basic movement skills and help them get stronger at it, they are not only reaping the benefits of strength and coordination, but they are also building confidence in their abilities. The skills that they gain have a range of emotional, social and physical benefits. The students are able to apply these skills to their daily lives" says Sunitha.
Program Impact
Suresh, age 14 and non-verbal, came into the program without having had any regular physical activity. He also had behavioural problems that at times prevented him from taking part in certain group activities and programs.
"He gets very irritable when you ask him to do things he doesn't want," Suresh's mother explained. "He can become physically aggressive towards people, so we were cautious at first with this program because we did not know how he would react."
The first few classes were difficult. Suresh would get frustrated with activities and at times even pinch volunteers he was working with as a way to avoid doing the exercises. To support students like Suresh, the program and the exercises were customized for each student's needs. For example, when focusing on developing the movement pattern of a typical squat, exercises were regressed (made simpler) by having the student squat to a higher position or holding the hands of a volunteer while they perform the squat or have them start from a seated position and stand up. We are also able to progress the squat (make it more challenging) by having the student perform an increased number of consecutive squats, have them hold a weighted object close to the chest while performing the squat, or raise arms overhead while squatting.
"Suresh loves his iPad," says Jonathan, a volunteer coach." Anytime he completes an exercise, such as the bear crawls or hurdle jumps, we reward him with some time on his iPad. This reinforces him and the great work he does."
Since starting the program, Suresh has slowly built up to a personal best of 10 squats. In addition, he is now able to participate regularly in fitness class, with minimum interruptions from any distracting behaviours he may express.
"It is so rewarding to see that Suresh has come such a long way in such a short time. You can tell he pushed himself with the last two squats," Sunitha remarks proudly. "Not only did he gain significant strength, but he overcame challenges and succeeded – that in itself can do wonders for his self-worth."
Special Thanks
We are incredibly thankful for our generous Program Partners – Ontario Trillium Foundation, Doug Flutie Jr Foundation for Autism, and Holman Enterprises – who made this much needed program possible. Please visit, support, and show your appreciation to these organizations who make positive community development possible.